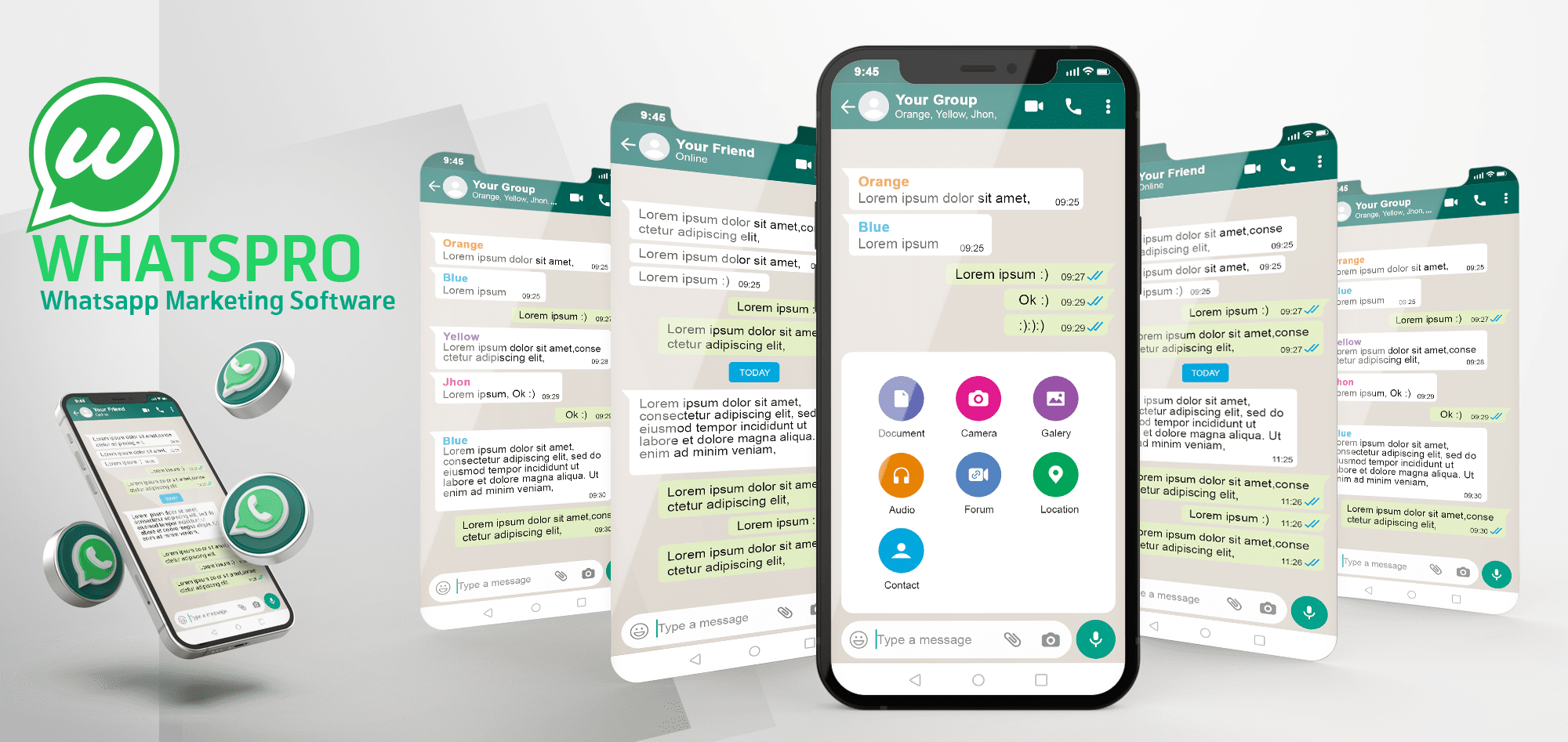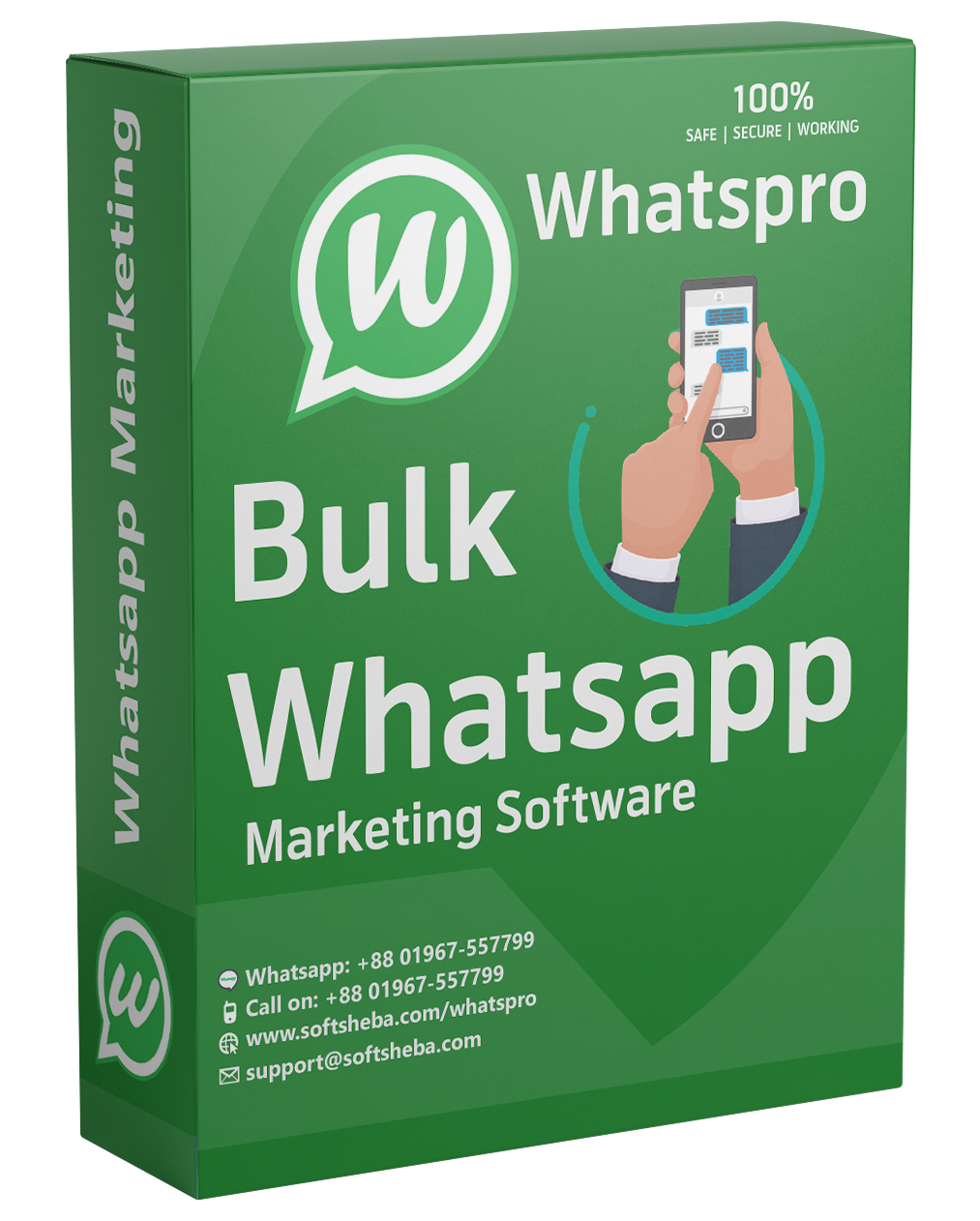 Automated WhatsApp Marketing Tool
It is a complete Windows-based Desktop WhatsApp Marketing Tool, where you can do effective communication with your target audience at free of cost.
WhatsPro is the only bulk WhatsApp sender with anti-blocking settings for fast message sending.
Boost your business with Whatsapp Bulk Sender
You can send unlimited messages every day without spending any money
You can add pictures, videos or files to text messages
You can send a message without saving the number
You can send messages to many people at once
You can send a message to the target client
You can automatically generate any number you want
You can verify which numbers have WhatsApp
You can collect all the numbers from different WhatsApp groups
Can track auto reply and response
You can send messages from one software using any WhatsApp number
You can import as many numbers as you want in file format from Excel or Google Sheet together or you can import numbers by copying and pasting.
Bulk mobile SMS has character limitations and no media file can be sent, you can send any media or file including pictures, videos, links, attachments using WhatsPro
Get instant and scheduled message delivery. This means that you can send all the messages at once if necessary and again you can send the message after the required time. If you send a message after a certain period of time, the customer will not reply to the message together. You can also take the time to talk to customers. For example, you can send a message with one click, but after 1 minute, the message will continue to go all day. Note that you can set the time interval between two messages as needed.
ABOUT OUR WHATSAPP MARKETING TOOL
WhatsApp Promotion is a growing and effective digital marketing strategy these days. But WhatsApp Messenger doesn't support sending unsolicited messages. So, it is wise to use a WhatsApp Marketing tool to reach out to your customer-base.
So, we are offering a bulk WhatsApp message sending tool, named "Whatspro". It allows you to send thousands of promotional messages to your target customers every day. It is one of the most user-friendly WhatsApp marketing tools that allows you to send bulk messages to potential clients with the attachment of multimedia content like- images, videos, documents, PDF & so on.
Why do WhatsApp marketing?
About 200 crore people in the world use WhatsApp
WhatsApp is the most used mobile messenger app
About 10 thousand crore messages are exchanged every day
On an average, every Android mobile user spends 36 minutes every day on WhatsApp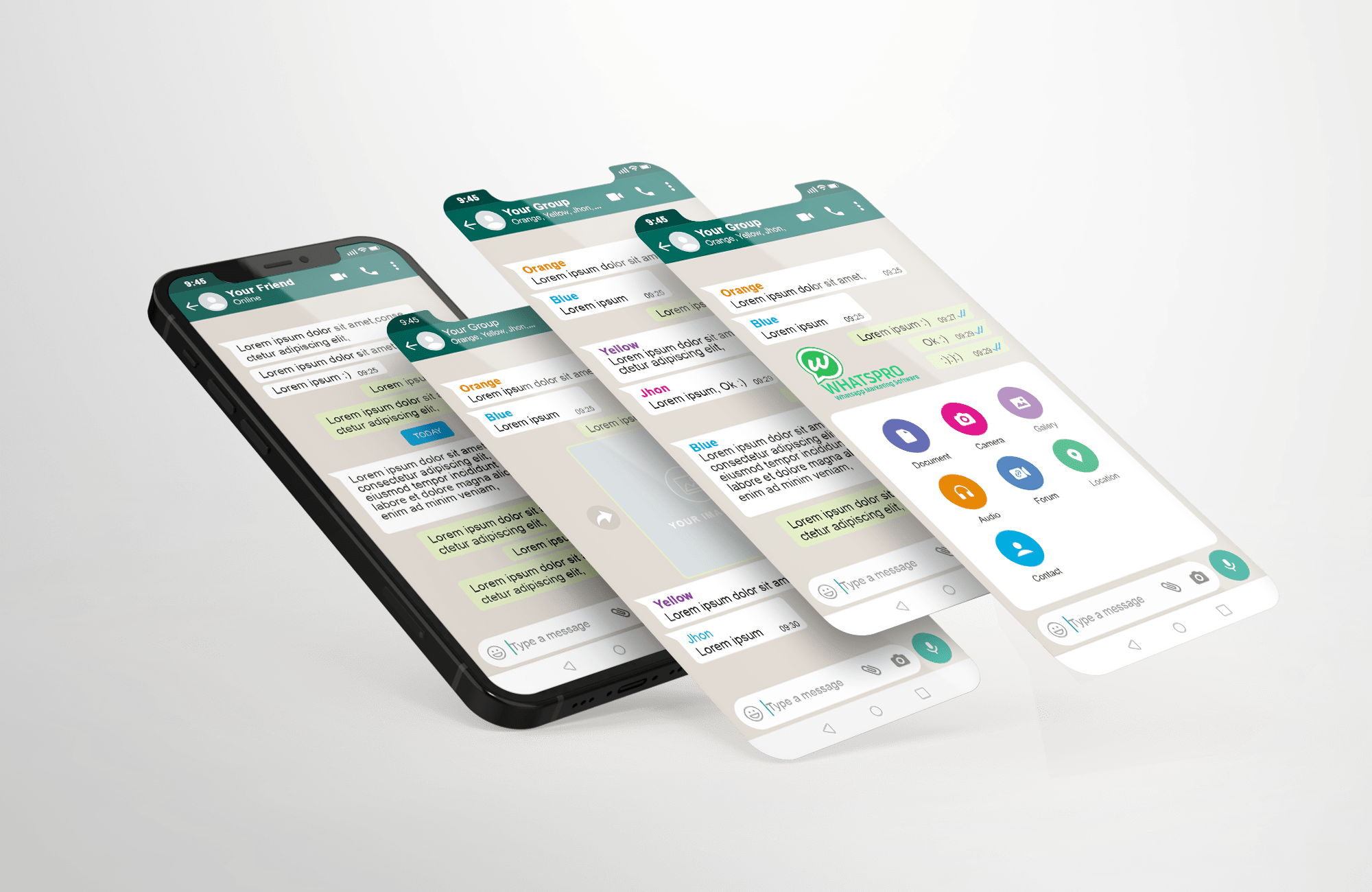 Number Generator
You can generate new mobile number.
Support All Multimedia File
Send Image, Video, Pdf file as message.
Group Graber
Extract mobile number from your WhatsApp group, where you are an existing member.
Message Scheduling
Schedule date & time for sending the promotional message as per your convenience.
Batch File Upload
Import numbers from your existing file in Excel or CSV format.
Turbo Speed Mode
Turbo speed will help you to send the message more quickly.
Text Customization
Send personalized WhatsApp messages with receiver's name and other personal fields.
Message Sending Report
Sending a message you will get a pop-up report which you make can copy for your further use.
We are embracing transparency and openness by sharing our metrics with everyone.
100+ Million Messages Sent
"Marketing is not about the stuff you make,
It is about the stories you tell;
Use WhatsPro to tell your business story &,
drive engagement to your content and business."
MORE REASONS TO BUY OUR WHATSAPP MARKETING TOOL
Send Announcements, News & Updates
Easy way to send announcements, promotional messages, news and updates with your target audience.
Build Engagement & Relationship
Create engagement with your users by sending customized messages and build a long-term relationship with them.
unlimited Messages per day
Immediate download after payment
1 User
1 Year Duration
unlimited Messages per day
Immediate download after payment
1 User
Lifetime Duration
unlimited Messages per day
Immediate download after paym
Frequently Asked Questions
Is there any hidden charge for using this software?
There is no hidden charge, you just need to purchase your preferred package and you are ready to go for using this software.
Is it possible to send bulk WhatsApp messages for free from laptop or desktop computer?
As this software is a windows-based desktop WhatsApp Marketing Software, you can send messages from your windows supported desktop PC.
If I don't have number base to promote, can I generate new numbers and check for WhatsApp account availability of this numbers?
Yes, through "WhatsApp Number Filter" feature you can get this facility.
Is it possible to grab the mobile number from WhatsApp group?
Yes, through "Group Contacts Grabber" feature you can collect the number from WhatsApp group.
Does this software support multimedia files?
Yes, this software support all the multimedia files like- Audio, Video, Image, PDF file and others.
If I don't want to send message right now, can I do the scheduling for sending promotional message later?
Yes, you can send the message now as well as you can schedule it for later.
How many WhatsApp messages can be sent per day?
The number of messages you can send each day will depend on how old your WhatsApp number is. In the case of a new account, you should start with an average of 1000 messages per day. You can increase this amount by 5% to 10% per day. If you continue like this, you will be able to send 3000 to 4000 messages in the next one month.
If I send many messages at once, is there any possibility that my number can be blocked?
If you send too many spam messages from your number to others then their is a chance to being blocked.
How to send thousand or more messages simultaneously to WhatsApp?
You can easily send thousand or more messages using the "Bulk WhatsApp Sender" option. In that case, you need to import your necessary contacts list through import file option. If you want, you can customize the numbers according to your requirement.
WhatsApp Marketing Software Documentation
Get common answers about Our Software issues, errors, installation, code compiling and other information about Business Sender Application.